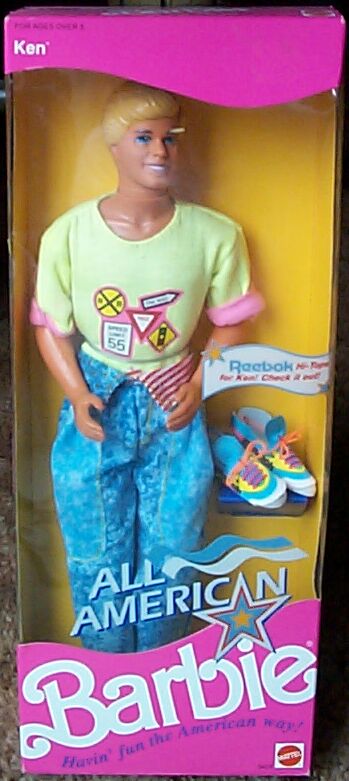 Hawt.
Barbie was one of my favorite dolls when I was growing up. Granted, I didn't have as many as my friend across the street, but my collection was plenty big.
The only problem was Ken. He was boring, but kind of necessary (because otherwise, Barbie's wedding dress would be useless). The plastic hair, the stupid, goofy expression ... and he only had one outfit because it was too embarrassing to change his clothes.
Here we go: the 90's version of a cool guy. He's got the street signs on his shirt, the baggy, high-waisted jeans, and the rad, rockin' neon shoes. He's just ... that guy who friggin calls too much.
Since I've been under the weather today (have to use that preface for my time-wasting activities you're currently reading about), I looked up what Ken looks like today. Um... yeah. Kind of makes me wish I hadn't missed the gap by 20 years.
Reminds me a little of Tarkan
Now, I might have still been leery of taking those pants off, but if I'd had a Ken like this, he might not have gone to work so much during playtime. Maybe my invisible 10 year old will be getting a present.